Monday Jul 12, 2021
S1E15 –Atlassian's 'no BS' Take on Tech, Vocational Education and Government with David Masters (Atlassian)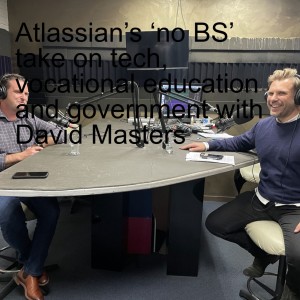 Atlassian is Australia's big global technology success story. It's also a tech firm known for straight-talking leadership, going all-in on innovative approaches to work and backing its purpose and values with real-world actions that it says are now expected by Aussie employees and the wider community.
And it professes to do it all with no BS and a deep commitment to its purpose.
We sat down with Atlassian's Director of Global Public Policy, David Masters to discuss the ways in which the tech titan is working with government to foster Australia's tech future and talent pipelines, how vocational training can play a big role in meeting our digital skills needs and why, ultimately, purpose and culture are the secret sauce for every business.
In this episode Marc and David explore:
The big issues Atlassian is focusing on and vocal about, from global data regimes to local innovation and talent
Why higher ed and vocational providers should focus on what they do best (and doubled down on digital skills)
The natural disconnect between industry and government, how to find common ground and improve collaboration, and
Why perseverance, culture and legacy are the keys to Atlassian's growth and success.